Period: 2019-
Funded by: Horizon 2020, program Research and Innovation Staff Exchange (RISE).
Partners: University of New Caledonia (coordinator), IRD, Agronomic Institute of New Caledonia (IAC), University of Toulouse, University of Paris, University of Le Havre, Ludwig-Maximilians Universitat Munich, University of South Pacific, South Pacific Community, Solomon Islands National University, Vanuatu Ministry of Education and Training, Vanuatu Agricultural Research and Technical Centre, University of Sydney, University of New South Wales, University Of Wollongong and Western Sydney University.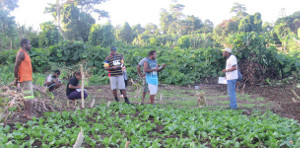 This research network focuses on family farming and food in the Pacific Islands. It involves fifteen multidisciplinary teams at local, regional and international levels (Europe, Vanuatu, Fiji, Salomon, New-Caledonia and Australia). The main objective is to build a network of research teams operating in the Pacific Islands that have a common interest in food security and its direct or indirect relationship with the environment, lifestyle and health. The final goal is to promote and revitalize family agriculture to improve the health of Pacific populations and ensure food security in the context of rapid social and economic transformations and climate change.